According to a recent report by Merrill Lynch and Age Wave, more than 60 percent of U.S. retirees have moved or plan to move during their retirement. As another article points out, "With over a quarter of a million Americans turning 65 every month and half of all second-home buyers over 46 (according to the National Association of Realtors), the idea of buying a second home now for future retirement is a certifiable trend." As many legal commenters note, "In today's increasingly transient society, it is quite common for a decedent to own property in a state other than his domicile at the time of death." These realities present complex multi-state probate issues.
As Professor Jeffrey Schoenblum points out, "While a state controls the allocation of probate jurisdiction among counties within its borders, no overriding authority exists to regulate the exercise of jurisdiction when estate assets are found in several states." Indeed, each state in which a decedent's property is located may assert jurisdiction over that property. This dynamic can and does result in inconsistent independent and inconsistent determinations in state court.6 These trends and legal realities signal an increase in multi-state probate issues for the probate practitioner.
Unfortunately, multi-state probate issues also present significantly complex legal issues. This outline barely touches the surface of the myriad of issues that can arise in multi-state probate administration. Each issue along could easily be its own paper. Additionally, the multi-state probate issues are interrelated. For example, a decedent's domicile plays a significant role in choice of law issues, as well as determining the situs of intangible assets. Real property, on the other hand, has its situs in the state in which it is located. These situs determinations usually affect a probate court's in rem jurisdiction. In turn, the concept of in rem jurisdiction plays a significant role in analyzing full faith and credit issues. The number of considerations, rules, and potential outcomes in this area make it very difficult for the legal practitioner to give advice with certainty. The purpose of this paper to highlight some of the key fundamental principles every practitioner should be aware of when analyzing a multi-state probate issues.
To download the full publication by Mark R. Caldwell and Sarah V. Toraason click the link below
Download the Full Publication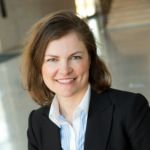 An experienced litigation attorney, Sarah Toraason has ten years' experience representing clients in complex commercial disputes involving securities, contract, business tort, insurance coverage, ERISA, and intellectual property claims in state and federal courts as well as arbitration. Sarah now applies her extensive business litigation background to representing clients in estate, trust, and guardianship disputes. She strives to be a strong advocate for her clients and approaches every matter with the goal of producing a successful and efficient resolution of their case.
Sarah graduated from the University of Richmond with a B.A. in Music and Leadership Studies and received her M.B.A. and M.A. from the University of Cincinnati. She earned her J.D. from William & Mary School of Law. After graduating from law school, Sarah served as a law clerk to the Honorable Henry Coke Morgan, Jr., of the United States District Court for the Eastern District of Virginia. She then clerked for the Honorable Fortunato P. Benavides of the United States Court of Appeals for the Fifth Circuit in Austin, Texas.